AGE CONSIDERATION
Children should not enroll in Class One before turning 10, according to the College. If they do, they could be enticed to enroll in college before turning sixteen. In our opinion, the greatest moment to enroll in secondary school is right before entering puberty, particularly if it means leaving home to live in a boarding house. The college curriculum is not designed to meet the needs of extremely young children who still rely emotionally on their parents' careful supervision. Our ideal entrance age would be 10 or close to that. No matter how talented a youngster is, he or she should have finished elementary school before enrolling at Divine Love College.
This is reflected in the design of Nigeria's educational system, and rushing children through the early stages of learning undermines some of the goals and objectives of the National Policy on Education. All students at Divine Love College are encouraged to develop leadership skills, as well as freedom of thought and responsible decision-making. If youngsters leave school when they are only 16 years old, we believe that none of these goals will be achieved very well. The prefect system is the finest approach for boarding schools to produce leaders, and as the school grows, we increasingly require experienced prefects to manage the boarding houses effectively.
We thus require senior students who are young adults rather than children. Students that start secondary school too early are frequently not picked as leaders, which prevents them from reaching their full potential.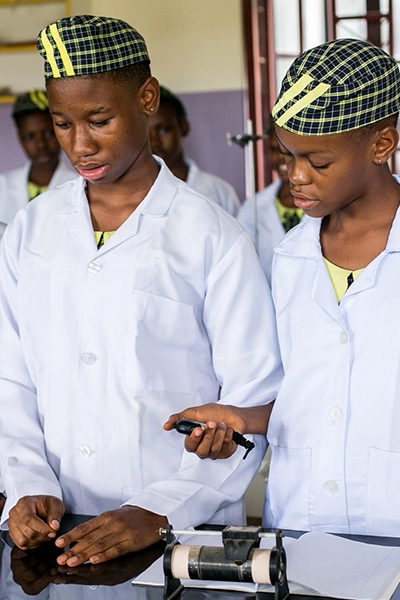 ENTRANCE EXAMINATION
ENTRANCE EXAMINATION INTO JS 1-SS 1 FOR THE 2023 – 2024 ACADEMIC SESSION MARCH 18 AND APRIL 22, 2023:
You can purchase our forms at the Selling Centres below or from the school website at a non-refundable rate of N10,000.00 (Ten Thousand Naira). Fill out and submit your application forms at www.divinelovecollege.com
Candidates planning to sit for the examinations abroad (Anywhere Outside Nigeria) will be taking the examination online through the online portal
Online forms are downloadable and all the forms will be returned to the school on the examination date or the oral interview with the principal
An application fee is charged by the school and payment can be made directly online here with a credit / debit card.
REQUIREMENTS FOR PROSPECTIVE CANDIDATES
Those who wish to enter JS1 next year should be 10 years old by September 1st 2023. A student may be withdrawn if it is later discovered that his/her age was falsified for the purpose of gaining admission into the college.
IMPORTANT DATES
March 18th, and April 22nd, 2023: Entrance Examination starts at 10.00AM.

EXAMINATION CENTRES
The school premises 

Online using the canvas LMS

FOREIGN prospective students will have their examination online
ADMISSION RESULTS
The Result of the Entrance Examinations will be published online via the school blog and other social handles seven days after the examination and interview (No test scores/ranks are released).
The final list of successful candidates for provisional admission will be published here on our website. [a portal where successful candidates will be placed]
SCHOLARSHIP
We encourage economically challenged children to take advantage of our academic and need-based scholarships.
Caritas Christi, Urget Nos